February 14, 2019 - 1:55pm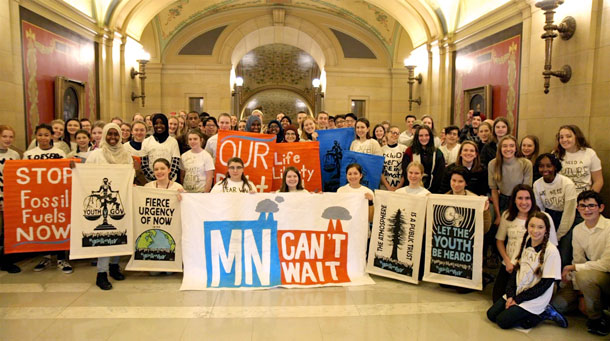 UPDATE: Two weeks after this announcement, on March 1st 2019, Enbridge announced Line 3 would be delayed by another year. The project, which was expected to be in service before the end of 2019, now won't be ready until the second half of 2020 at the earliest. 
Enbridge's Line 3 pipeline just became a lot less buildable. On February 12, recently elected Minnesota Governor Tim Walz announced that his administration will renew his predecessor's appeal to Enbridge's Line 3 pipeline expansion project.
To recieve updates on how you help #StopLine3 you can sign our pledge here. 
Marketed as a replacement for the existing Enbridge Line 3 pipeline, the project involves a doubling in capacity from 380,000 barrels per day to 790,000, and is the company's largest project ever. It runs from Hardisty, Alberta to Superior, Wisconsin, passing through Saskatchewan and Manitoba on the way. The new pipeline would travel a new route for about a third of its path, crossing through Anishinaabe land that is critical for hunting, fishing, and wild rice.
Minnesota is the last jurisdiction needed to give approval to Line 3. In Canada, the project received final approval from the Trudeau government in November 2016 (at the same time as the Trans Mountain expansion pipeline was approved).  
Walz's decision means that the state's Department of Commerce — who last year in an unprecendented move recommended against the project — will be able to launch a legal challenge against the state's Public Utilities Commission to reconsider its decision to grant a certificate of need for the Line 3 project. This makes the project much more likely to be turfed and is the latest sign that Indigenous-led movements to create a just transition away from fossil fuels are working. 
Diverse coalitions using a variety of tactics have stopped or stalled all but two of seven large-scale (over 150,000 barrels per day) proposed pipelines for oil sands expansion since 2005. Northern Gateway, Keystone XL, Energy East, Line 3, and the TransMountain Expansion have all not been built. Those that are up and running — Enbridge's Line 67 and Line 9b — benefitted from regulatory loopholes that afforded them shorter approval timelines and fewer opportunities for the public to intervene. 
In the case of Line 3, groups like Camp Makwa, Honor the Earth, and Minnesota Can't Wait have been leading the charge south of the border, pursuing tactics from lawsuits to canoe trips to divestment to independent Indigenous-led environmental reviews. Closer to home, the Spirit of the Buffalo prayer camp along the pipeline's route on Treaty 1 land in southern Manitoba has been up and running for six months. 
The renewal of this appeal is a testament to all of these groups' work and a clear victory for Indigenous rights, the water resources of the hundreds of communities along the pipeline's route, and our ability to transition to a fair, 100% renewable economy in time to avert the climate crisis.
We will encourage Walz to keep taking steps to reject the project, but it is worth noting that in announcing his decision, Governor Walz stated that projects like Line 3 "don't only need a building permit to move forward, they also need a social permit," and that his government was committed to following "the process, the law, and the science."
We need Prime Minister Justin Trudeau to take a page from Walz's book and listen to the science, directly impacted communities, and laws telling him that we cannot afford new fossil fuel projects, let alone those without Indigenous consent. 
To recieve updates on how you help on this side of the border you can sign our #StopLine3 pledge here.