March 16, 2018 - 4:07pm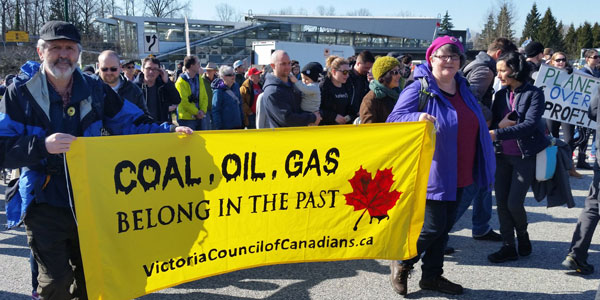 I was on Burnaby Mountain this past weekend for the massive Kwekwecnewtxw: Protect the Inlet rally to stop the Kinder Morgan pipeline and wanted to share with you what's happening next.
Six Council of Canadians chapters – Vancouver-Burnaby, Victoria, Mid-Island (Nanaimo), Cowichan Valley, Delta-Richmond and Chilliwack – along with numerous Council of Canadians supporters like you were there with the 10,000 people who gathered to say "no" to the Kinder Morgan pipeline.
Our demands to Prime Minister Justin Trudeau are clear – stop the Kinder Morgan pipeline, respect Indigenous rights, protect the waterways the pipeline would cross, protect the coast from bitumen and export tankers, take real action to reduce carbon emissions, phase out the tar sands and commit to achieving a 100 per cent clean energy economy by 2050.
While I was at the rally, I was moved by the speeches made by Indigenous allies who spoke of a future where the land, water and air was protected for current and future generations. The Council of Canadians has fought against this pipeline for years and will continue to do so until it is defeated. I was also reminded that we organized one of the first marches against the proposed Kinder Morgan expansion – back in August 2011. Even earlier, in 2008, we hosted Mike Mercredi from Fort Chipewyan, which is located north of the tar sands in Alberta, on a West Coast tour when most communities did not know about the tar sands and that they lived along a pipeline route.
Immediately ahead of us, we are organizing a convergence that will take place on March 23-24 where we will be welcoming Mike back to Vancouver 10 years after his first visit. This will be a key opportunity to bring people together to strategize and coordinate actions to stop the pipeline.
On March 23 we will hold a "Tar Sands to the Salish Sea: Solidarity Against Pipelines & Profits" public forum featuring Mike, Brandon Gabriel (Kwelexwecten) of the Kwantlen Nation, Natalie Knight of the Alliance Against Displacement, Jeff McNeil-Seymour from the Tk'emlúps te Secwepemc Nation, Billie Pierre of the Nlaka'pamux Nation, and Michelle Vendiola representing Red Line Salish Sea. More information is available here.
If you haven't already done so, please send your message to Prime Minister Trudeau calling on him to put the Kinder Morgan pipeline to a climate test that accounts for all upstream and downstream climate change impacts.

Thank you for supporting local organizing against the pipeline, taking action to protect the climate and drinking water, and ensuring this pipeline is never built.