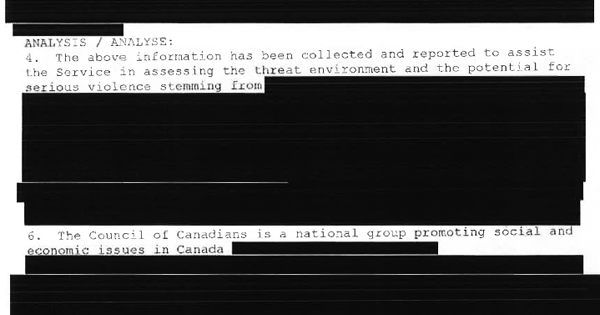 You have probably heard about the disturbing documents the British Columbia Civil Liberties Association (BCCLA) recently released that reveal that CSIS, Canada's spy agency, and the RCMP shared information about peaceful protestors with corporate oil executives.
The heavily redacted text – where the Council of Canadians was named repeatedly – showed these public agencies not only gathered information about people who attended community meetings and joined rallies to speak out against Enbridge's Northern Gateway pipeline, they put the information directly in Enbridge's hands.
As a founder of the Council of Canadians, I have seen how our civil right to protest is a cornerstone of our democracy. I have marched shoulder-to-shoulder with land and water protectors, carried signs and banners, and shouted protest chants with Canadians from coast-to-coast-to-coast in order to protect water and land from the polluting oil industry.