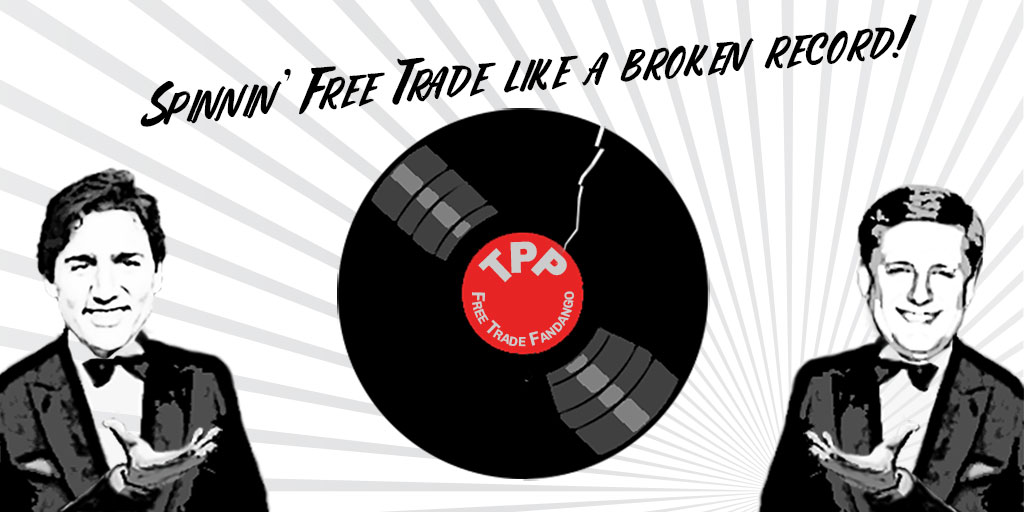 The Trans-Pacific Partnership (TPP) is a wide-reaching trade agreement between Canada, the U.S., Mexico and nine other Pacific Rim countries. It was negotiated in secret by the Harper government.
Prime Minister Trudeau has promised to listen to your concerns about the TPP and act on what he hears. The window for the public to comment has been extended to October 31 – so we need to keep the pressure on!
After years of secret talks where only cleared advisors and lobbyists were consulted – with no input from Parliament, civil society organizations, or people like you – a full democratic accounting of this far-reaching deal is long overdue.
We have until October to flood the government with our collective voices on this dangerous corporate rights deal. Let's send Mr. Trudeau a clear and powerful mandate from the people: Say NO to the TPP!
If the TPP is ratified corporations will have unprecedented privilege and power. And it will directly affect you, your family, your community and the future of Canada.
Here are just a few reasons we must stop the TPP:
The TPP gives increased patent protections for Big Pharma. Excessive patent protections in the TPP undermine health regulations, jeopardize a new universal pharmacare program, and raise the cost of medicines to the point that they may become inaccessible to the poorest countries involved in the agreement.
The TPP means reduced environmental protection. The TPP requires countries to screen all their environmental policies to make sure they do not hurt trade and investment. This will make it harder for our country to meet its commitments under the Paris climate agreement and meaningfully address climate change.
The TPP allows corporations to sue us. Like NAFTA, the TPP includes an investor-state dispute settlement process that lets companies sue governments in secret tribunals when public policies get in the way of profits. The polices or decisions can be legal, fair and designed to effectively protect the environment or public health, and still face corporate lawsuits that demand hundreds of millions of dollars in compensation. Canada has lost or settled seven such claims under NAFTA costing the public more than $200 million. This powerful tool of corporate rule undermines our democracy.
The TPP threatens the safety of our milk and food. The TPP would force Canada to take American milk and dairy products from cows that have been injected with synthetic bovine growth hormone (rBGH). This growth hormone was developed by Monsanto to increase milk production in cows. Injected cows are pushed to yield large quantities of milk. They suffer more stress, a higher incidence of udder infections, reproductive disorders, swollen legs and premature death. Years ago we said "no" to milk produced with rBGH. This is just one of many food safety and health standards that would disappear because of the TPP.
Here is what we will get with the TPP:
58,000 Canadians will lose their jobs.
Everyone will pay even more for already costly prescription drugs.
Milk from cows injected with bovine growth hormone will enter Canada's food supply.
Corporations will sue Canada if laws to protect people and nature infringe on their profits.