Wednesday, June 19, 2019 - 18:30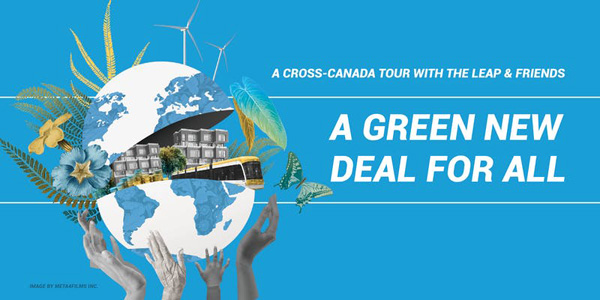 The Council of Canadians is proud to partner with our friends at The Leap for a tour to build a massive wave of popular support behind the Green New Deal in Canada.
Speakers and performers, including Emily Riddle, Nigel Robinson, Nisha Patel, Stephen Buhler, Avi Lewis and Batul Gulamhusein, will shine a spotlight on this growing movement.
Event details
When: Wednesday, June 19 from 6:30 to 9:00 p.m.
Where: Robertson-Wesley United Church, 10209 123 St. NW, Edmonton (Map)
Get your tickets now to the A Green New Deal for All tour
Last month, the Council helped launch the Pact for a Green New Deal, a coalition of workers, artists, Indigenous leaders, scientists, youth, and people across the country who are coming together for a new way forward in the face of catastrophic climate change. And in just a few weeks, tens of thousands of people have signed the pledge to be part of this movement, and participated in over 150 town halls across the country.
Building on that momentum, this tour will popularize a transformative vision of a Green New Deal for All in the lead-up to the federal election and support local organizing around the initiative.
At each event we will explore:
How the climate crisis is impacting our communities.
Who's responsible for the mess we're in.
How the Green New Deal can build a better economy and society – and how we can make it happen.