Monday, December 3, 2018 - 18:00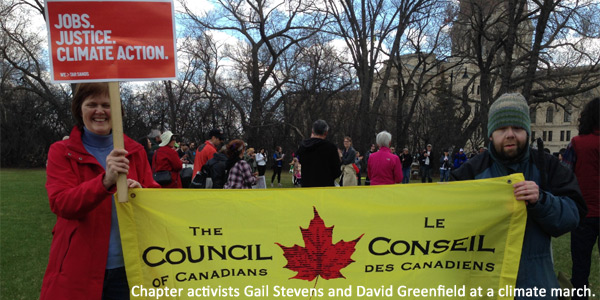 You are cordially invited to join members of the Council of Canadians Saskatoon Chapter for our 2018 Annual General Meeting and potluck supper on Monday, December 3!
Join us to talk about the year's successes and look ahead to how we can work together and strengthen our chapter's future work for social justice.
When: December 3 at 6:00 p.m.
Where: Stand Community Centre, 615 Main Street E. (Map)
The potluck will begin at 6:00 p.m. and our Annual General Meeting will follow at 7:00 p.m.
We will be bringing in the Council's national trade campaigner, Sujata Dey, by Skype and discussing the new U.S., Mexico, Canada (USMCA) trade agreement, as well as other trade agreements. We will then be electing co-chairs and a treasurer for the coming year.
If you are bringing food to the potluck, we would ask you to refrain from bringing any dishes with nuts, peanuts, peanut butter or coconuts in them.
For more information, please contact Dave Greenfield at cocsaskatoon@gmail.com.