Thursday, April 20, 2017 - 18:00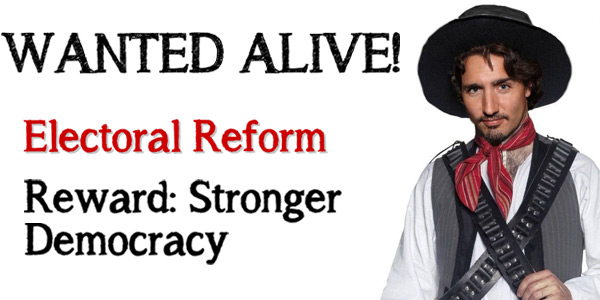 "The 2015 election will be the last election using first-past-the-post."
That was the promise the Liberals made during the federal election. Justin Trudeau and the Liberal Party promised to introduce legislation on electoral reform by May 2017.
But just 15 months after the election, Prime Minister Justin Trudeau has abandoned that promise. The current electoral system gave the Liberals 54.48 per cent of the seats in the House of Commons and 100 per cent of political decision-making power with only 39.47 per cent of the popular vote.
That is undemocratic.
Have your say! Join the North Shore Chapter of the Council of Canadians for the Citizens' Forum on Electoral Reform with Colchester-Cumberland MP Bill Casey. We will talk about electoral reform – why we need it and how you can help make it happen.
Event details
When: Thursday, April 20 at 6:00 p.m.
Where: Tatamagouche Public Library, 170 Main St., Tatamagouche (Map)
We hope to see you there!