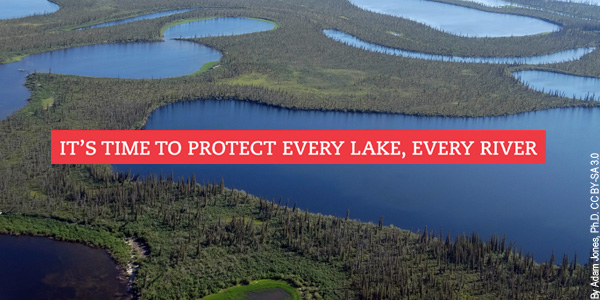 Dear Prime Minister Trudeau,
Leading up to the 2015 election, your government committed to restore lost protections and incorporate modern safeguards for water that were gutted by the former Harper government.
The proposed changes of the Canadian Navigable Waters Act (CNWA) falls short of what Indigenous nations, environmental and community groups called for during the Standing Committee review. The majority of comments urged your government to restore protections on all lakes and rivers and obtain free, prior and informed consent of Indigenous nations.
A closer look reveals other serious failures in the proposed CNWA, including that massive energy projects such as pipelines and transmission lines are exempt from the act and that illegal fracking dams in northeastern B.C. could be approved after construction has started.
We urge you to scrap the proposed CNWA and table much stronger water protection legislation that:
Protects all lakes, rivers and drinking water sources from being impeded, encroached upon or put at risk of contamination, including rejecting the Kinder Morgan pipeline that would threaten 1,355 waterways alone and phasing out extreme energy and water intensive projects.
Protects oceans, ecosystems, marine life and the integrity of water itself to remain as intact as possible in watersheds.
Respects that free, prior and informed consent must be obtained, as required by the UN Declaration on the rights of Indigenous Peoples, prior to the approval of a project.
Enshrines the UN human rights to water and sanitation, and the "obligation to protect" drinking water from being polluted.
Appoints a federal water minister who would have the key role of advocating for the protection of water in cabinet decision-making on major resource projects.
This is the visionary water protection legislation Canada needs from you and our federal government in order to ensure we protect water today and for future generations.
Sincerely,