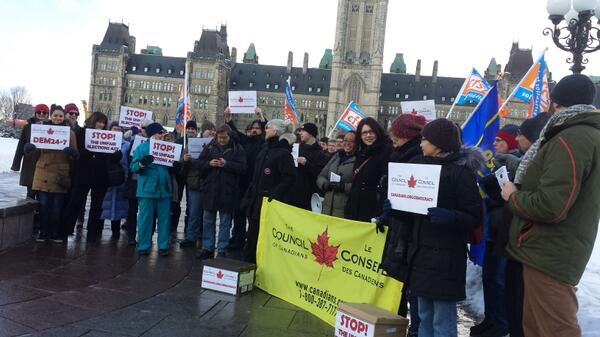 Two of Canada's largest organizations are uniting to stop an Unfair Elections Act they say is an attack on democracy. The Canadian Federation of Students and the Council of Canadians are opposing the bill with a mass coast-to-coast call-in today to Conservative Members of Parliament. The day of action included a gathering on Parliament Hill where the Official Opposition received 30,000 petitions challenging the bill, which will be tabled in Parliament.
Participants outside Ottawa are joining the synchronized action by calling the Conservative MPs closest to their riding from 12:30 p.m. to 6:30 p.m. EST, which coincides with the second reading debate taking place today.
"The Unfair Elections Act aims to suppress the vote of groups that may not vote Conservative including students, Indigenous people, seniors, and people on low-incomes by eliminating the vouching system," says Jessica McCormick, National Chairperson of the Canadian Federation of Students. "The Chief Electoral Officer should be given more scope, not less, to encourage Canadians to vote. Dropping voting rates are not an excuse to strip the office of this function – it's a reason to bolster this role."
The organizations argue that a Fair Elections Act requires a fair parliamentary process and public consultation. This bill fails both those measures.
"The Unfair Elections Act does nothing to bring to justice the people behind the widespread election fraud in 2011 and would actually make it harder to catch perpetrators of election fraud like Pierre Poutine," says Maude Barlow, National Chairperson of the Council of Canadians. "Canadians have the right to know when election fraud has been reported and if it is being investigated. That fact that this bill would prevent that is deeply troubling."
The Council of Canadians and the Canadian Federation of Students oppose the Unfair Elections Act because:
It muzzles the Chief Electoral Officer, prohibiting promotional campaigns to increase voter turnout or the discussion of complaints related to fraud.
It hampers future investigations of electoral misconduct by making the Commissioner an agent of the government rather than of parliament.
It will prevent voters from finding out if other voters have complained of misconduct.
It does not contain any of the important measures proposed arising from the electoral fraud legal cases.
The bill should go through the normal parliamentary process and have public input.  When even the Chief Electoral Officer says that it is an "affront to democracy," surely there should be public debate about it. Why the haste, when the government was 18 months late in tabling this proposal?
The bill may be unconstitutional, since it negatively affects the rights of electors, which are constitutionally protected.
-30-