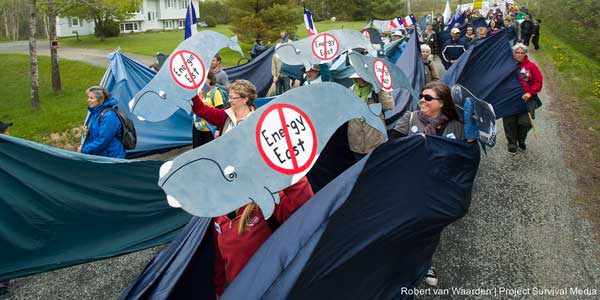 Proposal to extend Energy East to Point Tupper, NS, seen as out of touch
The proposal from a Senate committee to extend the controversial Energy East pipeline through Nova Scotia is a shell game to save the Energy East pipeline, but makes no sense from an environmental and climate change perspective, says the Council of Canadians.
"Pipeline advocates are running the Senate Standing Committee on Transportation and Communications committee. This is unacceptable at a time when cutting carbon emissions should be a federal priority," says Robin Tress, Council of Canadians spokesperson in the Atlantic region. "Senator Michael MacDonald, a Harper appointee from Nova Scotia, promoted Energy East and the extension to Point Tupper, throughout the committee's hearing process. Harper-appointed Senator Pierres-Hughes Boisvenu coached Nova Scotia Minister of Energy Michel Samson to push the Quebec government towards accepting Energy East."
"The Senate's report begins with an Einstein quote that we cannot change the world without changing our thinking. Yet this Senate committee is unable to envision an energy future without the dying fossil fuel industry," says Daniel Cayley-Daoust, Energy and Climate Campaigner with the Council of Canadians. "Instead of creating a committee to look at pushing more fossil fuel infrastructure development, the Senate could have accepted the reality of climate change, and created a committee to facilitate a just transition away from fossil fuels."
The committee is largely made up of and led by Harper appointees and was created with the purpose of legitimizing the construction of pipelines despite the realities of climate change.
"If the Energy East pipeline is extended to Point Tupper, as the Senate committee is recommending, it would be a significantly different project than was originally proposed in 2014 and would require a new review by the National Energy Board," says Cayley-Daoust.
-30-