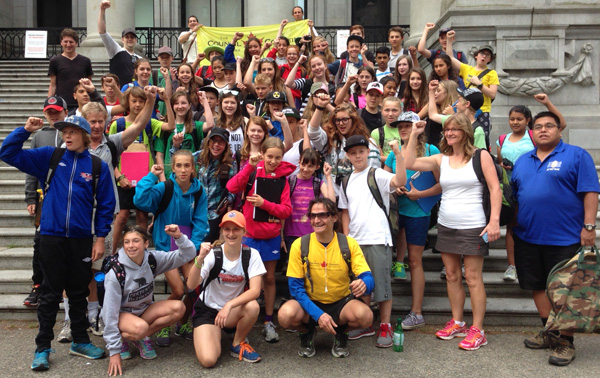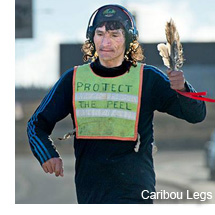 There's an incredible story unfolding right now that I need to share with you.
Just hours ago, a man named Brad Firth – who prefers to go by Caribou Legs – embarked on an extraordinary cross-Canada journey.
With support from the Council of Canadians, the Indigenous ultra-marathoner from Inuvik left Vancouver this morning by foot heading east on a 4,400 km run to Ottawa that will take him almost three months to complete.
Why is Caribou Legs running? To highlight the 2.5 million lakes and rivers across Canada that have been stripped of federal environmental protection by the Harper Conservatives.
The Council of Canadians has been working flat-out to challenge this shameful move and restore these vital protections. So we were thrilled when Caribou Legs asked to partner with us.
Right now, Council staff and chapter activists in communities all along his route are gearing up to bring national attention to this critical issue as millions of us head to our favorite waterways this summer!
You can help too. Click here to send a $10, $25 or even $50 gift to support the Council's plan to save our lakes and rivers.
You may painfully remember Bill C-45, the omnibus bill the Conservatives rammed through Parliament in 2012 without any public consultations or debate.
The day the Conservatives' new law came into effect it cancelled environmental impact reviews for 3,000 energy projects – including tar sands pipelines, fracking and mining – putting the environment and health of millions of Canadians and Indigenous communities at direct risk.
This is personal for Caribou Legs, who for years has been running to raise awareness of threats posed by mining operations around the Peel Watershed in northern Yukon. The last fresh watershed of its kind in Canada, the Peel Watershed is home to many fragile ecosystems under threat by massive and unchecked resource development.
And there's purpose behind Caribou Legs starting his run today. You see, the most important federal election in a generation is less than 150 days away — and he plans to arrive on Parliament Hill in the throes of election fever.
Both he and the Council of Canadians are committed to making this a ballot box issue!
"Canadians need to know what the Harper Conservatives have done to our lakes and rivers, sacrificing their protection so Big Oil, fracking and mining companies can reap even greater profits," he explains. "I have a voice, I have legs, and I'm going to use them both to make change!"
He's already off to an incredible start! This morning, dozens of high school students came to cheer on Caribou Legs at our launch event at the Vancouver Public Library.
And that's fitting because his motivation runs deeper than this election. He's running for you and me, our children and our children's children – to ensure we all have a future that includes clean, safe water.
Now we need your help to keep this campaign running strong through the summer, right up to Election Day.
Not long ago, 2.5 million lakes and rivers across Canada were federally protected.
Today, only 159 remain.
With your help, we will change this. Please donate what you can now and I promise you every dollar will help to raise the level of public education and political will needed to protect our water today and for generations to come.
With hope and resolve, 


Maude Barlow
National Chairperson
Donate online here. Every dollar goes directly to fund public education and advocacy work to amplify this campaign.
Prefer to donate by phone? Call us toll-free at 1-800-387-7177 (Monday-Friday, 9-5 ET)
Prefer to donate by mail? Send your cheque payable to "The Council of Canadians":
The Council of Canadians
300-251 Bank Street
Ottawa, ON, K2P 1X3
P.S. Can't donate now? Sign our national Pledge to Protect petition to federal leaders.