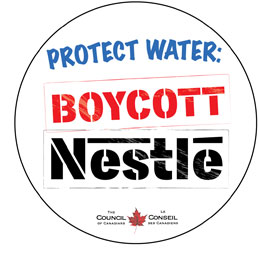 Many parts of southern Ontario and British Columbia have recently faced drought conditions. Yet Nestlé, a giant bottled water corporation, continues to pump millions of litres of water from watersheds in Wellington County, Ontario and Hope, British Columbia.
Groundwater resources are finite. Droughts, climate change and over-extraction continue to impact our limited water sources. At this pace, communities will not have enough for their future needs.
Water is a human right, commons and a public trust, to be shared, protected, carefully managed and enjoyed by all who live around it – not a source of profit.
Let's stop Nestlé from profiting from water. Together, we can ensure our water is protected for generations to come.


his Is How Far Nestlé Ships Water Bottles To Sell
Activists have tracked Nestlé water bottles that are sold as far away as 3,000 kilometres from the community where the water was taken.
Watch on Huffington Post »