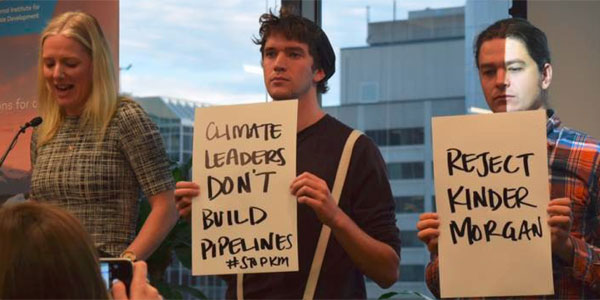 The Trudeau Liberals approved the Kinder Morgan Trans Mountain pipeline expansion on November 9, 2016. Construction for a tripling of the pipeline's capacity to 890,000 barrels of oil per day (BPD) is set to start imminently. This project threatens to unleash a massive tar sands spill which would threaten drinking water, salmon, coastal wildlife and communities. It is inconsistent with our commitments to reducing climate pollution under the Paris Agreement.
There are important barriers in the way but we need your help to stop it.
The newly elected NDP government has joined the legal battle against Kinder Morgan and is refusing construction on public land. There are currently nine cases, seven led by First Nations, before the federal court of appeal challenging the Trudeau government's approval of the pipeline. Over 61 First Nations have spoken out against the project. BC opposition remains strong with people committed to challenge it legally and beyond.
More information on why we should stop the Kinder Morgan pipeline:
Indigenous legal challenges and opposition to the Kinder Morgan pipeline ►
Kinder Morgan pipeline would expand the tar sands ►
Tar sands spill threatens drinking water, communities and the Salish Sea ►
Proposed benefits are overstated ►